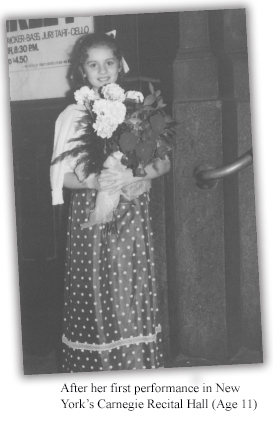 Elena Klionsky began playing piano at the age of five in her native St. Petersburg, Russia with the famed teacher Irena Orlov and performed in public for the first time at the age of six. Upon her family's emigration to the United States, Elena met her life-long mentor, Isaac Stern, and continued her studies at The Juilliard School — first at the Pre-College Division for seven and a half years and later in College and Graduate School, where she was the recipient of the prestigious Petschek Scholarship. While at The Juilliard School of Music, Elena had the opportunity to study with some of the most celebrated teachers in the world: Piano with Robert Harris, Nadia Reisenberg, Adele Marcus, William Masselos and Jacob Lateiner; Chamber Music with Dorothy DeLay, Harvey Shapiro and Tossy Spivakovsky. After receiving her Master's degree, she continued her studies with Vladimir Viardo from Moscow Conservatory. In high school, at New York City's renowned High School for the Performing Arts, she graduated with the B'nai B'rith Award for Outstanding Performance in Music and was named "Promising Young Artist" by the National Foundation for Advancement in the Arts.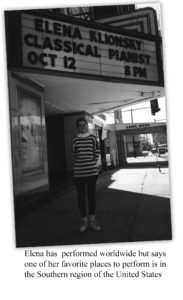 As a high school student, Elena performed weekly for many years on the "Science of Mind" programs in Lincoln Center's Alice Tully Hall; made an appearance on ABC TV's "People, Places, and Things" program; often performed on WNYC radio; and made her orchestral debut at Lincoln Center with the National Music Week Orchestra. In 1979 Elena was chosen to play the piano for a cameo role in the MGM movie "Fame."
Nicknamed The Piano Phoenix because she has risen above serious physical trauma to her right hand in 2002 and another trauma to both hands in 2016 to once again grace the world's concert stages with her artistry, Elena is back after eleven hand and shoulder surgeries, years of continuous physical therapy and dedicated practicing.
Before Elena injury, she had a very impressive list of performance credits. Ms. Klionsky performed her recital debuts in New York (in Weill Recital Hall at Carnegie Hall) and Moscow (in Moscow Conservatory's Great Hall) to sold-out audiences. She made her professional orchestral Debut performing in front of fifteen thousand people on the same bill as Itzhak Perlman with the Chattanooga Symphony Orchestra under the baton of Vakhtang Jordania. She has returned to Chattanooga many times to sold-out audiences. Her solo recitals, orchestral appearances, and TV and radio performances have taken her across the United States to Canada and Mexico, through Western Europe to Southeast Asia and to her native Russia, where she performed with the leading orchestras including Moscow State Symphony, St. Petersburg Camerata, Ural Philharmonic Orchestra and Russian Federal Orchestra. Ms. Klionsky was the first foreigner ever to open the annual "Moscow Stars" Festival in the Great Hall of the Moscow Conservatory.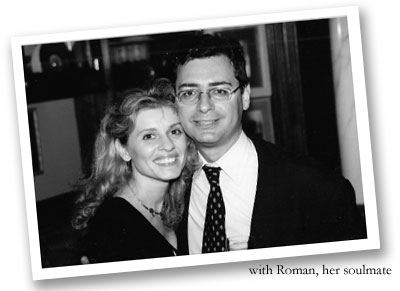 Elena has a vast repertoire, including music by Scarlatti, Bach, Beethoven, Chopin, Liszt, Scriabine, Prokofiev, Shostakovich, and Rachmaninoff. One of her Juilliard teachers, William Masselos, introduced Elena to 20th century music, especially to the music of Vincent Persichetti (who worked with Elena). Now, Elena pioneers Mr. Persichetti's music and enjoys performing music written especially for her by composers from the United States, Argentina, and as far away as Iran. Today, Elena works closely with Mr. Persichetti's student, the Argentinian-American-French award-winning composer Martin Matalon. Steve Smith from The New York Times described the US premiere of Mr. Matalon's TRAME IV (for Piano and eleven instruments) in New York's Lincoln Center as "…intricately woven and brilliantly eventful performance of TRAME IV by the assured soloist Elena Klionsky…" She is currently working on a recording of Mr. Matalon's Piano music for NAXOS.
Ms. Klionsky was mesmerized by lectures on Beethoven by Jacob Lateiner at the Juilliard School. He later became her piano teacher and inspired her profound understanding of Beethoven's work. This has brought her invitations to lecture and conduct seminars about Beethoven's life and music to diverse audiences across the United States as well as abroad. She has lectured and given Master Classes throughout the United States and Asia.

Always enthusiastic to perform with friends, she formed a Piano Trio at The Juilliard School. Later, she toured often in Canada, Holland, Belgium and Italy with a violinist performing Violin/Piano Sonatas.. She now performs regularly with her high school and Juilliard friend, Taiwanese pianist Virginia Wei-Tsen Shiao. They perform Four-Hand repertoire as well as Concerti for Two Pianos and Orchestra, which were recorded for Solaris Classics.
Ms. Klionsky has played numerous concerts in support of different charities including Elizabeth Taylor's Concert For AIDS, Isaac Stern's birthday celebration for the Ben Gurion University, Operation Exodus for the United Jewish Appeal, First Russian Orthodox Sunday School for Children in Moscow, Alzheimer's Association, CONTACT Helpline/Safehaven, Hadassah Women, Jerusalem's Karen Or Center For The Blind, and many others.
Ms. Klionsky holds the coveted title of Steinway Artist since 2008.
Elena Klionsky recently had the honor of performing a 2-hour concert at the White House as part of the "National Treasures" events.
Ms. Klionsky has been selected for listings in American Keyboard Artists and World Who's Who of Women.
She lives with her family in New York City.